Bio
Band's history
Into The Floyd (formerly Gilmour's Breakfast) brings alive the music of Pink Floyd by performing an authentic and diverse catalogue of the band's music all the way from their earliest material in 1967 to their final album in 2014. Featuring an international lineup of multi-instrumentalists from Scotland, Ireland and the United States, the band emulates the experience of a live Pink Floyd concert with lighting and visuals weaving through the sonic tapestry of the Floyd soundscape. While being able to perform note perfect renditions of the band's studio recording, Into The Floyd also takes pride in re-creating classic live versions of the band's tracks and will often create compelling hybrid editions of their own. Any die-hard fan will be happy to hear a number of deep tracks while the casual listener will recognize their favorite FM hits. 

Into The Floyd doesn't just aim to please every fan in the audience but instead to lure them into a suspension of disbelief where they are experiencing a true Pink Floyd concert.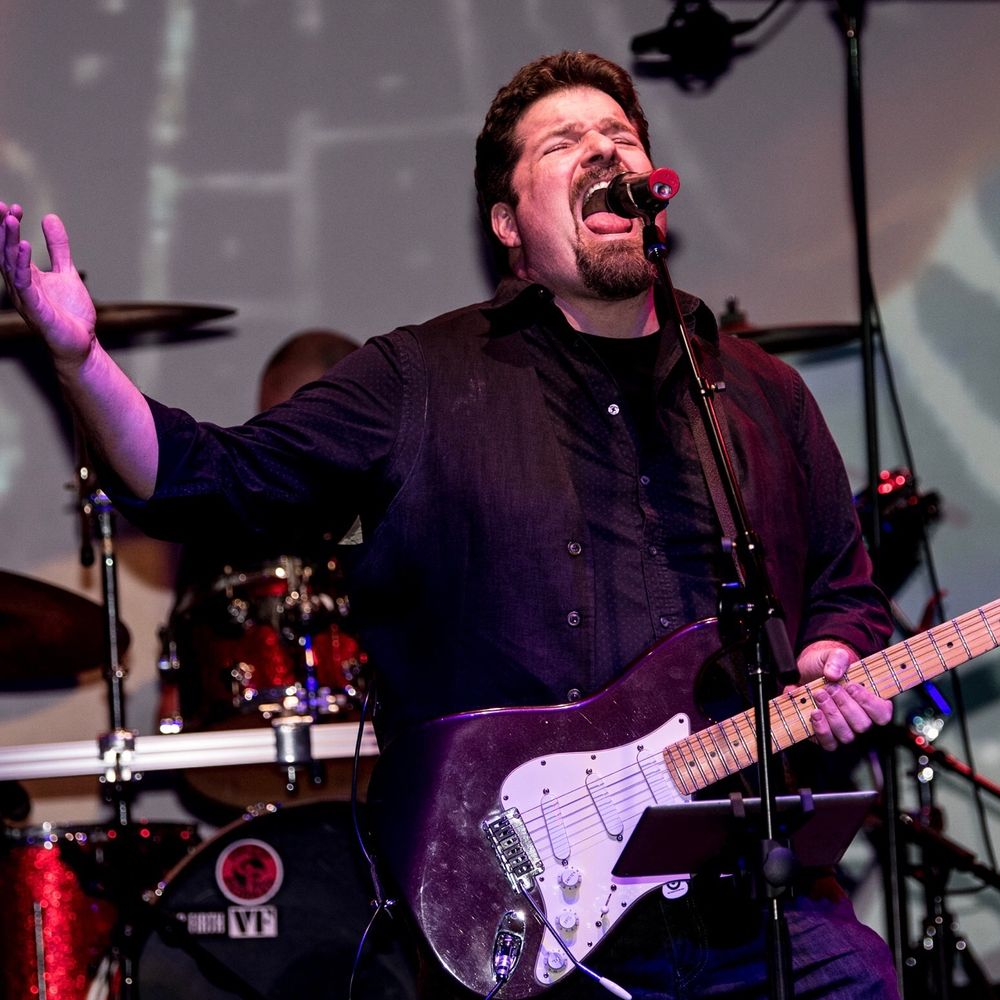 Garrett Lechowski
Lead Vocalist, Guitar
Garrett played his first paid gig at the age of 14 Originally from Buffalo, NY, he has toured the USA and Canada extensively as the guitarist for Who Are You-A Celebration of The Who, as keyboardist and mandolin player for American Zeppelin (Led Zep tribute) and as "The Neil" in Harvest & Rust-A Neil Young Experience.  He is also the current American guitarist for legendary Canadian musician Carl Dixon (singer for Coney Hatch & The Guess Who and former member of April Wine).  Garrett joined INTO THE FLOYD following filling in as singer for the band in April 2019 without a rehearsal or without even meeting some of the band members until the night of the show!  On joining Into The Floyd, Garrett states, "I am incredibly grateful for the gift of joining such a talented group of musicians. Pink Floyd's music deserves to live on for generations. My goal is to ensure that we, as a band, always work together to lovingly present the music as intended."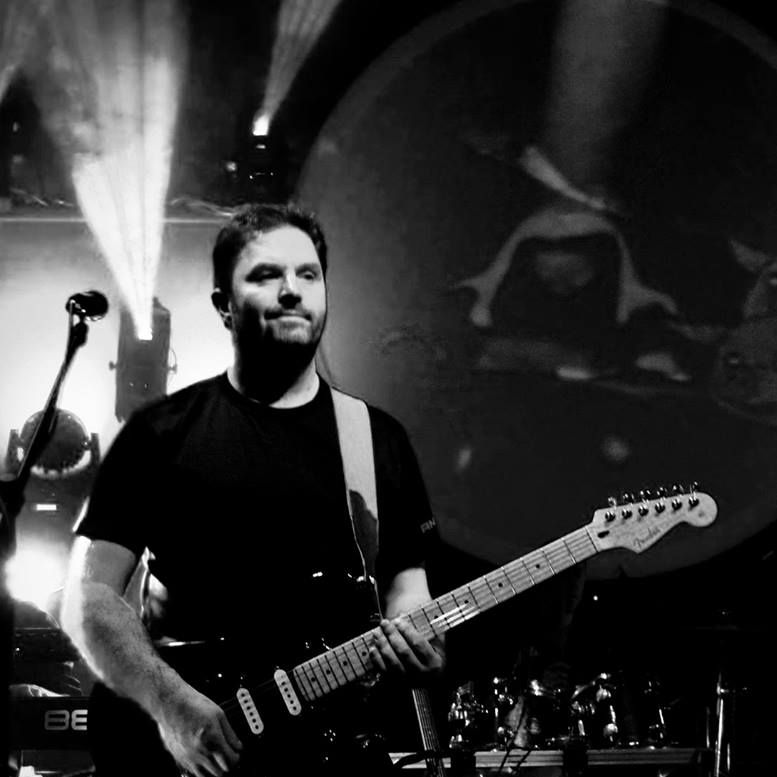 Martin Stewart
Lead Guitar, Vocals
A native of Irvine on Scotlands west coast, Martin moved to the USA in October 2001.
Self taught from age 16 he started playing in local bands around the area culminating in playing the  Kelvingrove Festival in 85' in Glasgow Scotland. Then featuring in national and  local radio  live broadcasts. He was fortunate enough to have shared the stage with Bon Jovi and in the USA Shirley Lewis.
After arriving in the USA Martin was in several bands and then found his way to being the lead guitar player for Into The Floyd, which was a natural progression for him given started listening to Pink Floyd at around 11 years of age.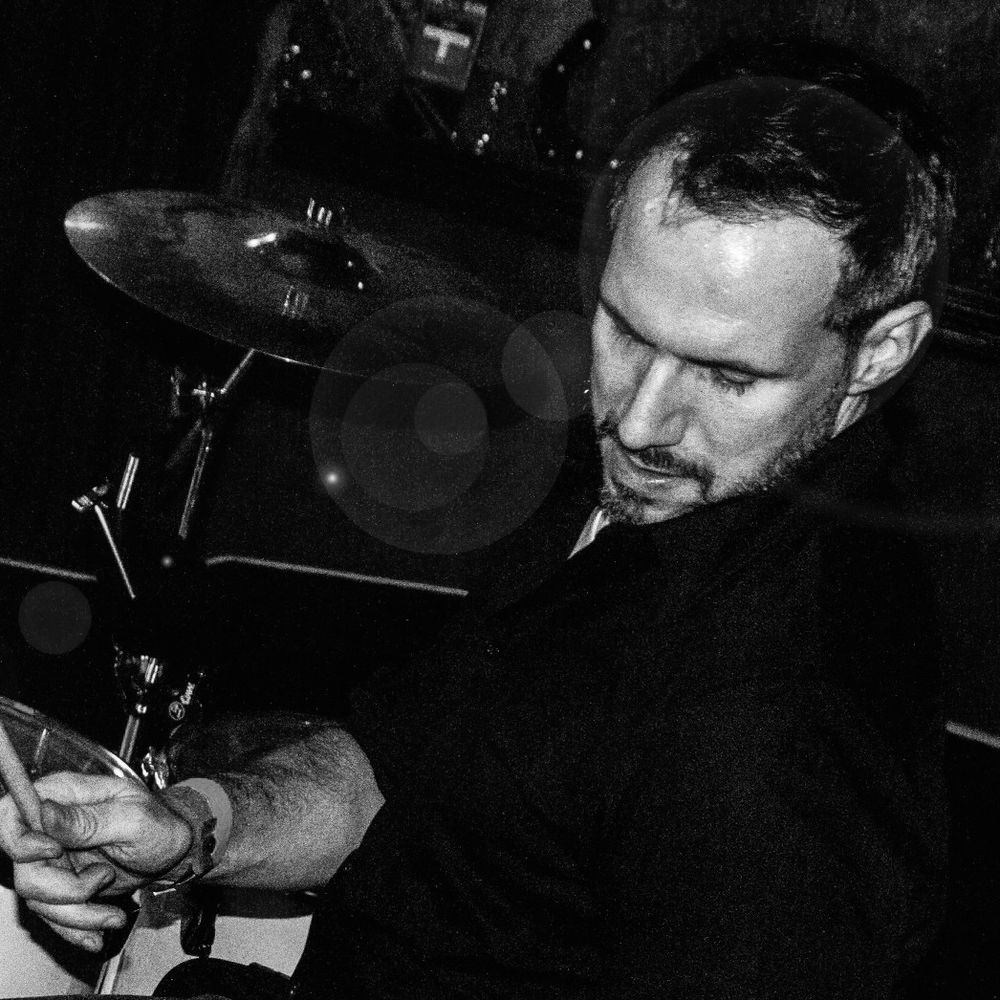 Mark Kaefer
Drums
Mark joined Into the Floyd in the summer of 2021, having most recently drummed for the Boston-based Led Zeppelin tribute Angels of Avalon. New Jersey-bred and New England-buttered, Mark has been a drummer and percussionist since the age of nine and has a deep musical background spanning rock, jazz, fusion, funk, and classical. A progressive rock guy at his core, Mark grew up with Pink Floyd playing constantly on his stereo — and he considers it an honor to play music that is very much part of his DNA.
Conrad Mlynarski
Bass
Conrad holds down the bottom end in Into The Floyd's rhythm section.  He hails from Worcester, Massachusetts where he played in his first band at age 14, after saving his school lunch money for 6 months to buy a bass guitar.  He honed his skills throughout those years by seeking the best musicians in the area and learning everything he could from them, always being the youngest person in the band.  By his mid-twenties he was an in-demand bassist playing electric and upright bass throughout New England in bands whose styles included blues, rock, folk, jazz, zydeco, and funk.  Conrad's unique blend of blues and rock make him an exciting and passionate bass player for Into The Floyd.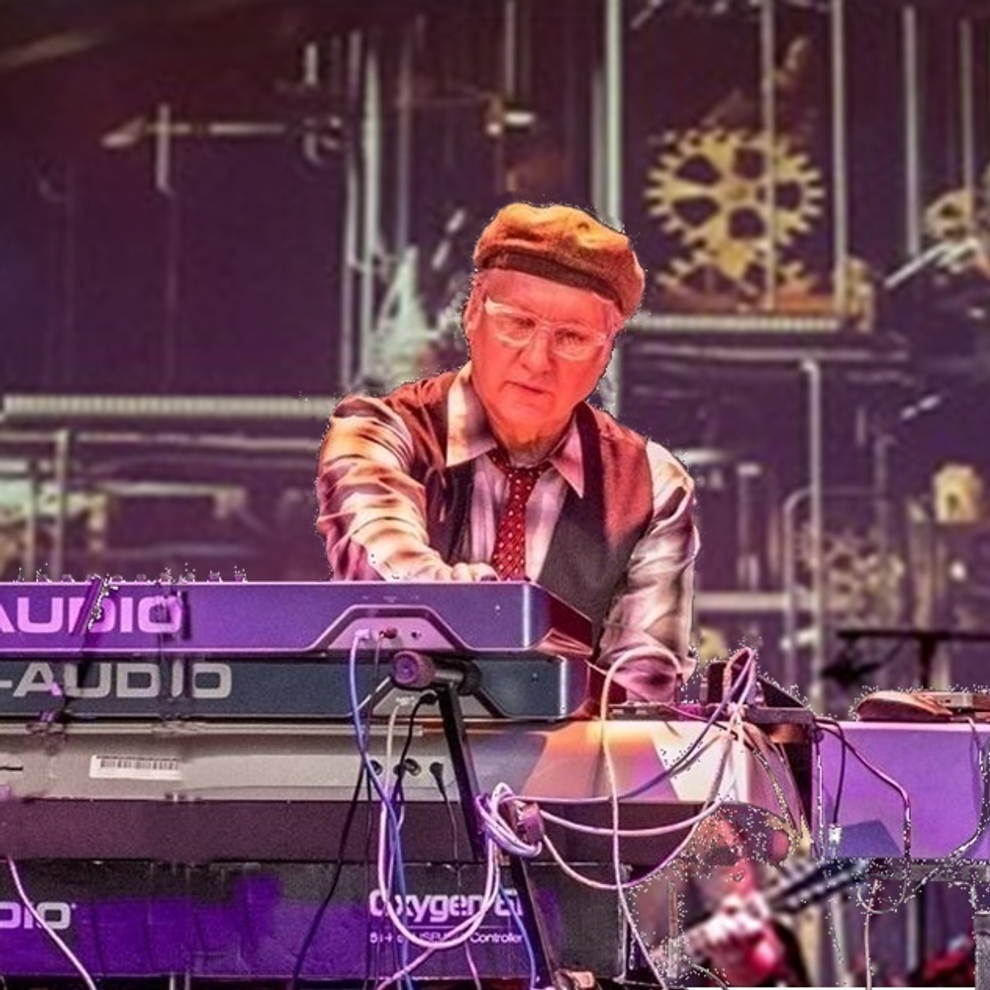 Doug Alexander
Keyboards
Doug's early influences began with the Beatles, then broadened into ELP, Yes, and the other progressive rock icons of the 70's. Eventually Doug's greatest musical fascination became psychedelic music, a genre in which Pink Floyd still remains a timeless and towering force. Upon joining Into The Floyd in 2017, Doug has poured his soul into building the keyboard rig required to provide the full sonic landscape required for the "full Floyd experience" of an Into The Floyd show.
Doug's former projects/studies include: Keyboardist for 70's tribute band Zachary Smythe, and Beatles tribute band AfterFab. Singer/Songwriter and bassist for original rock band The Forons. Owner of Tandem Recording Studio, Boston MA. Studio recording and front-of-house mix engineer/producer for various Boston artists. Studied Music Theory at University of North Carolina, and studied Composition, Arranging, Film scoring, Electronic Music, and Recording Studio Production at Berklee College.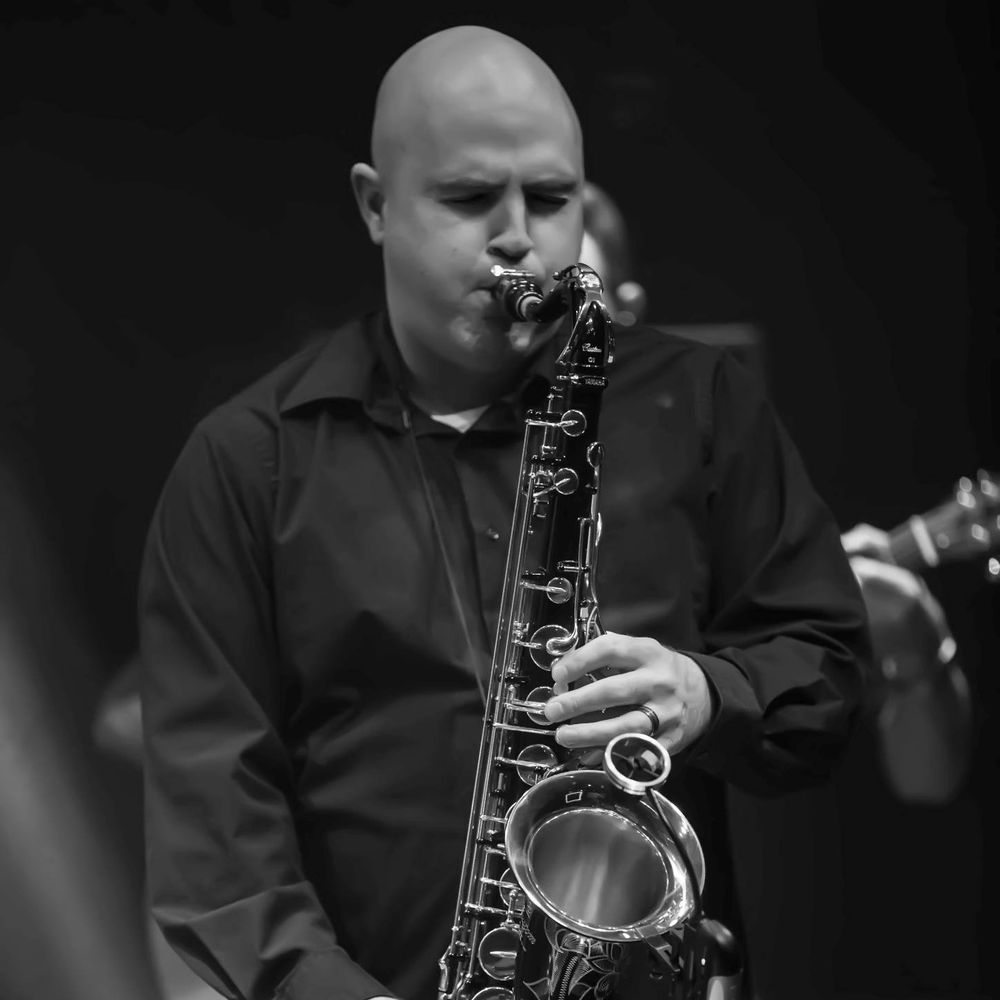 Ryan Piccolo
Sax
Ryan Piccolo received his training at Berklee College of Music as well as Rhode Island College, where he received his B.A. in Music with a minor in Jazz Studies. He is fortunate to have studied with Fred Lipsius (Blood, Sweat and Tears), Greg Abate (internationally-renowned jazz saxophonist), and Ian Greitzer (Principal Clarinetist for the Boston Pops Orchestra). Aside from teaching Private Lessons, Ryan is also the Band Director at St. Michael School in Pawcatuck, CT. 
Ryan has been extremely fortunate to have opened up for national acts including Spin Doctors, Violent Femmes, and Billy Gilman. He has also had the pleasure of sitting in with the touring American rock band Max Creek!
Currently, Ryan plays with a variety of artists and bands. Like most fans, he instantly fell in love with the music of Pink Floyd while in high school. In Ryan's words, "Pink Floyd can simultaneously express chaos and comfort in a way that no other band has done for me". He is excited and humbled to be a part of Into The Floyd.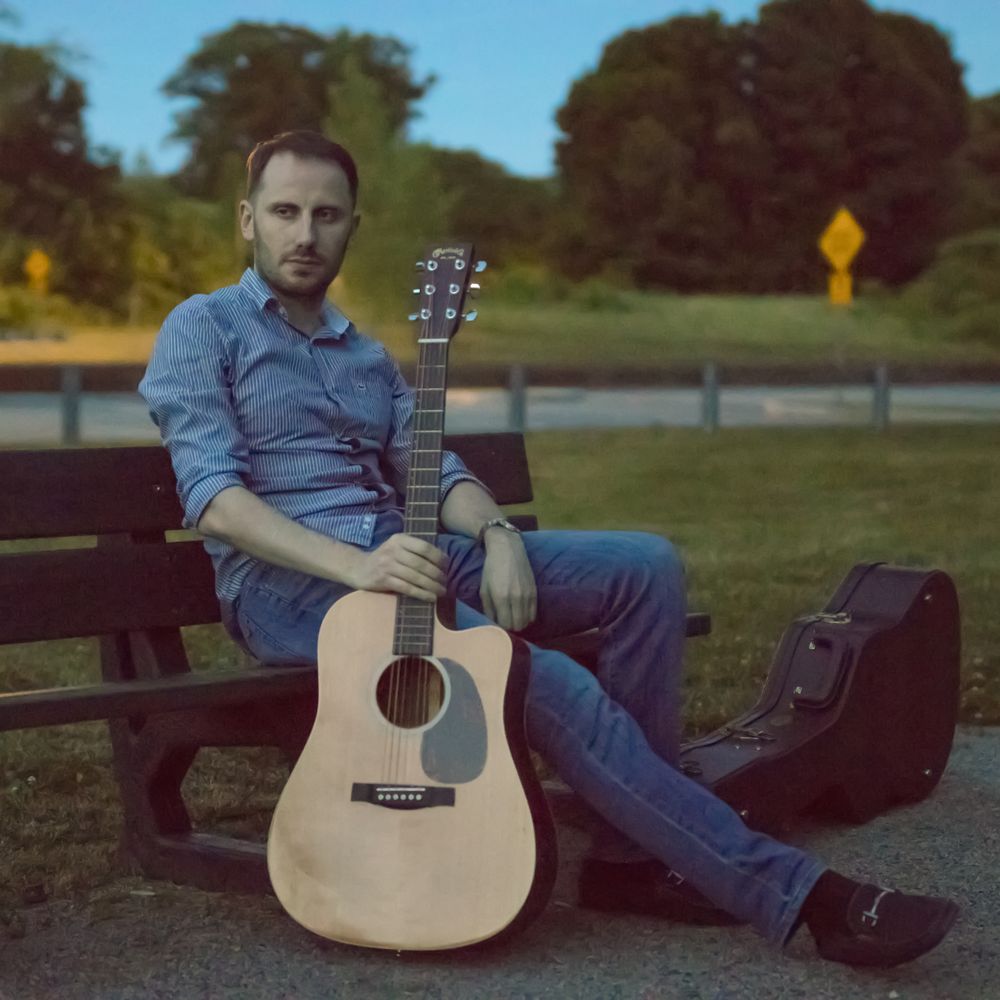 Makhach Abdulpatakhov
Rhythm Guitar, Keyboards
Makhach joined the band in 2017. Originally form Daghestan, Russia, he started learning piano at age 12 and got private lessons for 4 years, before switching to guitar. Before joining the band Makhach lead his own band in Moscow playing Classic Rock covers as well as original songs. He also played a lot with multiple bands and developed his skills by playing at jam sessions in all over the world.
Makhach became fan of Pink Floyd since childhood. His major guitar influences are Ritchie Blackmore, David Gilmour, Nuno Bettencourt and Joe Bonamassa.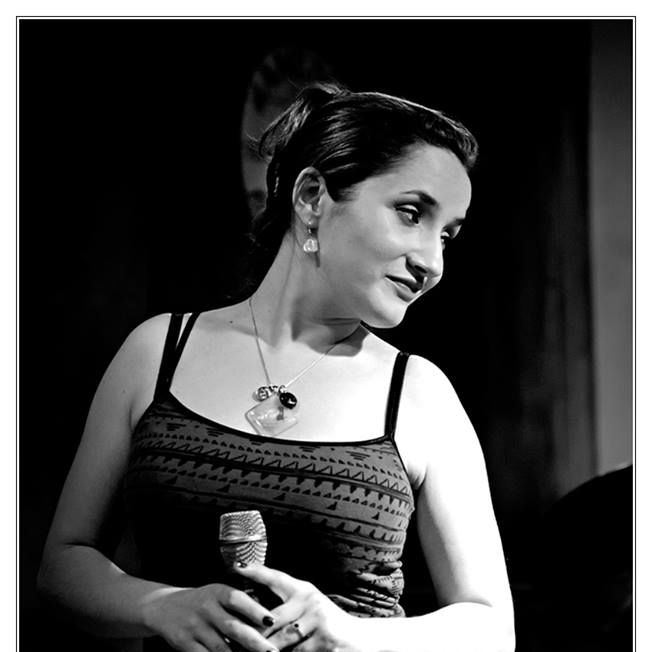 Inna Dudukina
Vocalist, Keyboardist
Inna Dudukina is an international vocalist, multi-instrumentalist, composer, arranger/orchestrator, and producer.
She had her academic formation in some of the most highly regarded music schools in the world.
Born in the heart of Siberia, Russia, Inna has developed her passion for music since her early days.  She grew up in Novosibirsk, a city with an impressive musical environment, where she began her studies at the young age of five, and became well known locally as a classical pianist by the age of seven. Later she attended Novosibirsk State College of Music majoring in both voice and piano performance, where she solidified her classical music background and jazz music theory foundations; and then followed up in the United States of America, where she became one of the few Full Tuition Scholarship recipients in famous Berklee College of Music. Now she is a proud Berklee alumna with Bachelor of Music degree, Performance / Contemporary Writing and Production Majors, and Minor in Music Engineering.